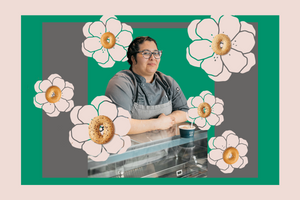 Chatting pastries with the queen of kouign-amanns, Commissary's Pauline Badillo.
If you've chomped down on a bacon, egg, and cheese bagel from Commissary or cursed one of its crazy-flaky croissants (how is it so gd flaky?!) you're familiar with the handiwork of Pauline Badillo, Executive Chef. We chatted with her over a cup of coffee (a must for bakers whose days start well before sunrise) about her career, inspirations, and desserts. 
What are your first memories in the kitchen?
When I was younger, my family would have large gatherings for the holidays. I remember running through the kitchen while all the women in our household would be together, talking and cooking for everyone.
This industry still tends to be a male-dominated space. Do you have any advice for aspiring women chefs?
Don't separate yourself or think of certain roles as having a gender. The industry has come far in this aspect. It's not unusual to see women running a kitchen or working on the line. I don't think I've ever seen another cook think someone couldn't handle a station based on their gender. In the kitchen, how you work defines you more than anything else.
What did you want to be when you grew up?
Growing up, I could never make up my mind on what I wanted to do. I changed my college major at least four or five times! But I always knew it needed to involve some creativity and a challenge, because that's what gives me the most satisfaction. In my early twenties, I waited tables and bartended. I was being trained for promotions, so I had to work in each of the kitchen stations as well. I really enjoyed it and that's what started my interest in cooking.
There are a lot of seasonal offerings and holiday menus at Commissary. Where do you start when creating a new dish? 
Ingredients and concept. It's about the seasonality of the ingredients, as well as the idea behind the dish. What is the dish intended for? Who am I feeding? What's the story behind it? 
What do you do when you're not in the kitchen? 
My free time belongs to my girls. I have three kiddos ages 12, 13, and 16. Time is short, so I want to take advantage of as much of it as I can before they run off to college. We enjoy going to movies, eating out, and playing with our dogs.
Favorite dessert?
Birthday cake and ice cream! 
Go-to coffee order?
Drip coffee with a dash of cream.
- - -
The Details: Commissary, 1217 Main Street. Follow on Instagram for more.