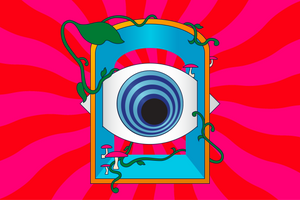 Get your tickets for the EYEBORETUM April 21–23. 
For years, The Eye at The Joule has reigned as the most iconic event venue in Dallas—a green oasis in the center of downtown anchored by Tony Tasset's 30-foot-tall fiberglass, resin, and steel sculpture, Eye. It has been the destination for some serious parties, including festive weddings, group yoga classes, picnics, and galas. 
It has also served as annual site of the Dallas Art Fair's closing celebration. Attended by patrons, local VIPs, and exhibiting gallerists from around the world, the fête hosted by The Joule is unquestionably one of the city's most anticipated events. And year after year, tickets are the hottest commodity. 
This year, The Joule is breaking new ground with EYEBORETUM, a three-day, all-ages event at The Eye. (Of course, you'd expect nothing less from the hotel that's known for its artfully unexpected and unconventional style.) 
The imaginative garden experience taking place Friday, April 21–Sunday, April 23 will welcome guests to explore surreal floral landscapes, purchase themed cocktails, and enjoy a few surprises along the way. Unlike any other in the Dallas, EYEBORETUM will be a ticketed event with proceeds benefitting Dallas Art Fair's education programs to support the next generation of artists. 
Tickets are $10 for adults; free for kids under 12. And your day-of ticket will score you a delicious deal across the street at The Joule, as well: 1/2-off pizzas at Sassetta or $10 burger and fries at CBD Provisions. (Reservations recommended, especially during Dallas Art Fair weekend!) Get all the details and purchase your tickets online here. 
- - - 
Pro tip: The event will is limited capacity and tickets are available on a first-come, first-served basis. Get your tickets before they sell out. Questions? Email info@theeyeballdallas.com.