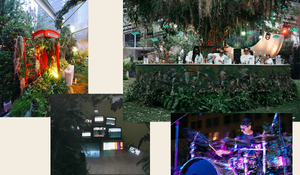 The world's largest stringed instrument, an all-you-can-grab bodega, cocktails poured from gasoline cans, 600+ guests dancing on the lawn... it can only mean one thing: The Eye Ball is back. Presented by Headington Companies and hosted by The Joule, the event is the city's most creative and wildly over-the-top party to celebrate Dallas Art Fair. 
Since its inception in 2014, the party for the fair's exhibiting gallerists, artists, patrons, and local VIPs has grown from its initial bash of 300 guests with passed hors d'oeuvres to a fully immersive event. 
Previous years' themes have alluded to elements of time, ranging from illusion and perception to an '80s throwback. This year's return after an understandable hiatus took the concept head on. 
TIME HAS EXPANDED AND CONTRACTED—NO LONGER A RELIABLE MEASURE. NATURE, THOUGH, CONTINUED HER COURSE. RELICS AND RESOURCEFULNESS ARE ALL THAT IS LEFT.
This saying, attached to counterfeit timepieces given to guests at entry, set the stage for the night's theme which mixed elements of survivalism, ingenuity, and nature's resilience. (Its unrelenting growth perhaps expedited by the future's scientific developments?)
"The inspiration came from conversations we've all been having about time lately" says Jeny Bania, CMO of Headington Companies who spearheaded concept and design. "Time is mushy; we lost time, when was that?... Our perception of time has been in the cultural ether. In the creative process, we explored nature as the unquestionable marker of time. We thought of vines and nests and overgrown structures with debris like gasoline cans and abandoned TVs. We also included a few relics from previous years as winks to good times at a party that we have such fond memories of over the years. It's like waking up after a long pause and ultimately a joyful return—a celebration of being finally back together in honor of our city, the arts, and Dallas Art Fair."
Entering through a dilapidated tunnel shrouded by a curtain of fog, guests found the lawn of The Eye much transformed since the last fête, completely overgrown with verdant greens, tangled vines, and a 20-foot-tall tree at the center bar.
Tucked past the custom-built swing set: EZMART, a rundown bodega stocked with imperishable gas station fare, bottles of booze, Eye Ball-branded snacks, and, of course, custom scratch-off tickets. 
Playing with ideas of endurance and time-travel, the menu included provisions and snacks in all-terrain, adventure-ready packaging. Signature cocktails Rust Plus, Coolant, and C2H5OH were served in industrial bottles, glass flasks, and specimen bags. The Cure, a charcoal and almond liqueur-infused cocktail, was poured from jerry cans into lab beakers. 
Bites passed by servers in custom lab jumpsuits featured tuna tataki with a yuzu kosho aioli "preserved" in a sardine tin along with new takes on vintage treats, including PB & rhubarb pop tarts, "bologna" sandwiches with charcoal cheese, and old-school chocolate puddings in mini cans. 
Styled by fashion event producer Jan Strimple, the party's characters included a perfectly apathetic bodega clerk, a time-obsessed scientist, suited officials from an unknown agency of the future, and a bucket drummer next to "the nest," which was actually the surrealist restroom trailer designed by Studio 214.
Varying from the lo-fi to the fantastical, the night's entertainment included a "radio station" mix by Dallas' cult-fave DJ Tony Schwa, punctuated by intermittent live performances. With dramatic staging, William Close performed the Earth Harp, the world's largest stringed instrument which extended from The Eye lawn to the rooftop of Forty Five Ten. Grammy Award-winning Mark Guiliana performed centerstage on the drums followed by a dance party directly in front of The Eye—a perfect culmination to an evening that certainly made its mark on time. 
 - - -
Credits: Concept and Design: Jeny Bania and Headington Cos.' in-house creative and marketing team; Production and Design: Planet Productions; Florals and Greenery: Gro Designs; Catering: The Joule; Restroom Trailer: Studio 214; Talent: Jan Strimple; Musical Artists: William Close, Mark Guiliana, et al.